WELCOME TO RUMAH RODA FAMILY HOMESTAY
Rumah Roda family homestay is located in the cultural center of Ubud which is famous for Balinese culture, art and traditional Balinese life forms. It is walking distance to Ubud Market, Ubud Palace, Art museums, monkey forest and shopping center along the Ubud area which is endowed with a green garden in the breeze.
Feel free like your second home in Bali, we take you to explore memorable holiday experience see interaction social life of Balinese in tradition morning Ubud Market, join to attend temple ceremony, visiting the nature beaty of Ubud, rice plantation and irigation system
How does it feel to start your holiday with a quick round in the pool a blue sky? As a guest in our family homestay, you will have free access to swimming and sunbathing in our beautiful outdoor swimming pool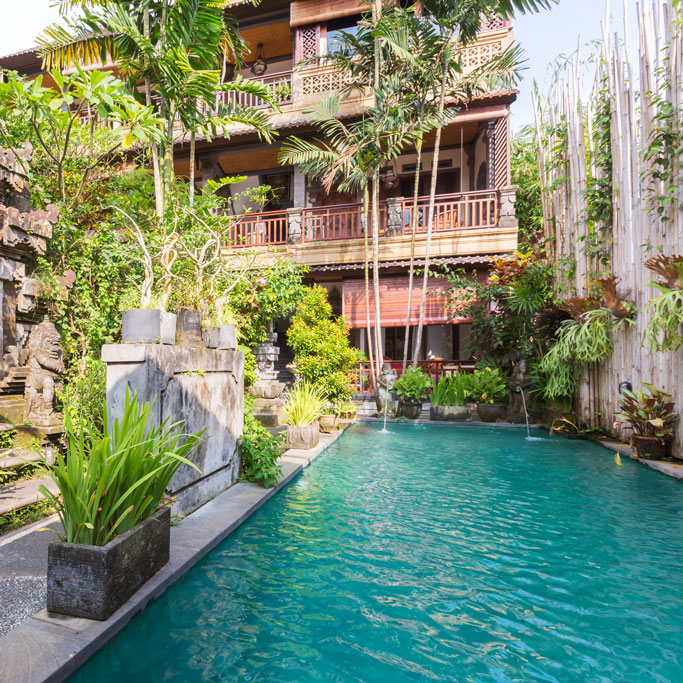 Handcrafted delights that instantly brighten up your day. Whether its chocolate, vanilla or cinnamon, we use the finest ingredients to produce these mouth watering artifacts.
"The Pancakes for breakfast were delicious"
The bed was comfortable & the view from our room was lovely. The pancakes for breakfast were delicious.
Located in main entrace of Rumah Roda family homestay over looking to main strait Jl Kajeng, resto designed as cassual dan relax, open daily for breakfast lunch and dinner, serve variaty menu food and beverage.
Follow the aromas and choose the most enticing menu to satisfy your palate.